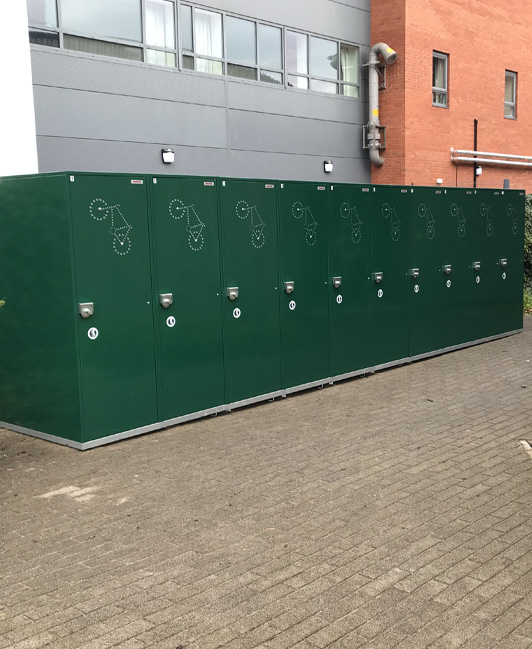 Sold Secure Diamond Rated Cycle Lockers
Cycle Locker Security CANNOT be better
BikeAway is the UK's leading manufacturer in secure cycle lockers. We offer a range of products and have recently introduced a horizontal cycle locker. Security is at the core of our business and all of our locker range holds Sold Secure Bicycle Diamond. Secure cycle parking is essential in today's modern World as bike theft has risen sharply in recent years, often due to insufficient or inappropriate bike storage. Opportunist thieves can easily steal or vandalise a bike if it is not stored correctly, with premium bikes often targeted for theft. A shed, garage or unsecure bike storage can be broken into in seconds by an experienced bike thief and bikes secured to a frame with a lock often have parts or components stolen.
The Warrior cycle range are the only cycle lockers in the UK to hold Sold Secure Bicycle Diamond accreditation, currently the highest security rating for secure cycle storage. Sold Secure is run by the Master Locksmith Association and is a not-for-profit trade association. It has close links with a number of constabularies and insurers who provide regular information regarding the methods of theft and the latest attack tools that criminals are using in their area.
Warrior Cycle Lockers cannot be broken into during a 5 minute Sold Secure attack test, in fact we haven't had one broken into since accreditation.

Sold Secure Diamond Rated Cycle Lockers
Simply Put "
Warrior Cycle Lockers

~ The Most Secure Cycle Parking Available"

Sold Secure is an approved attack house for Secured by Design, the Official Police Preferred Specification who focus on crime prevention initiatives within the building industry.

The attack test carried out on Warrior tests the security of the whole locker, not just the lock. This is why we know that our Warrior range are the most secure cycle lockers on the market with the accreditation to prove it. These lockers are not flat packed, but are delivered fully assembled to guarantee their Sold Secure Bicycle Diamond standard.

More about Secured By Design here >>

Reducing Crime by Design
So why does BikeAway use Sold Secure rather than the other standards? Simply put-they are the best. Sold Secure carry out the toughest test using a time measurement to break into a product using specified weapons. The Sold Secure Diamond standard has an attack test of 5 minutes and uses a range of weapons including a 600mm crow bar, a lump hammer and bolster.

The Only Recognised Standard in the UK
Insurers often specify Sold Secure for unattended bicycles, with Gold standard required for more valuable bikes, but we are one standard higher with Diamond standard. Products are tested annually to ensure they continue to withstand the latest trends in theft and attack that is relevant to the cycle locker industry.

The Warrior Cycle Locker range and the Warrior Horizontal Bike Locker range has a minimum of Bicycle Diamond standard, the highest rating there is and in April 2021 the first and only Cycle Locker Manufacturer to achieve this accolade.
Sold Secure Diamond Rated Cycle Lockers
Warrior Diamond Rated Cycle Lockers, the UK's No 1 Choice for Cycle Security

Warrior Diamond Rated ~ Setting Cycle Locker Industry Standards
Warrior Cycle Lockers Have Been Installed In Numerous Locations Throughout the UK Including Sainsburys, Morrisons, and many councils to including Southwark, Westminster, Tower Hamlets and Hackney, to name but a few.
Warrior Diamond Rated Cycle Lockers can be found in various transport hubs such as Park & Rides, ferry terminals and trains stations.
We have worked with Plymouth City council on an initiative to encourage cycling to work and Warrior Diamond Rated Cycle Lockers can be found throughout the city.